Our Products
The products we use on your skin and hair are of the finest formulas and ingredients. No need to over complicate things. We only work with the best products. It's really that simple.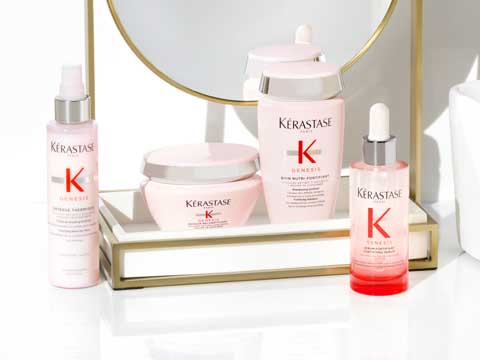 More Strength. Less Breakage.
Kérastase Genesis Collection. Tired of seeing hair on your brush? Meet our new dual action fortifying collection.
NEW Color Extend Brownlights.
Remove brassy tones from brown hair.
NEW Color Extend Brownlights.
Redken's Color Extend Brownlights Blue Toning Sulfate-Free Shampoo is a color-depositing, blue toning shampoo for brown hair. This progressive toning system is ideal for preventing and neutralizing brass for brunettes. This sulfate-free shampoo gently cleanses your hair without stripping color and helps prolong cool brunette color.
What is scalp exfoliation?
Only our latest hair care obsession! We've always been very mindful of scalp health as the root of healthy hair. Maintain a healthy scalp with a little help from a detoxing, pore-stimulating scrub. Your hair will be more likely to reach its longest, strongest, most luscious state. Discover the Fusio-Dose collection